News
Winter Merch Drop
Dear Albioneers!
Have you been meaning to get some new cosy and warm duds to add to your wardrobe during these cold months? Perhaps in need of a new mug? Or just feel passionate about Albion and would like to show it off?
Well, fear not! We are pleased to announce that as of today orders are open for this year's Albion Merch Winter Drop!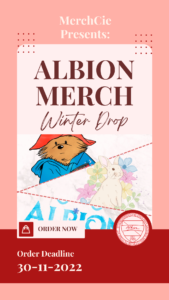 Here (Albion Winter Merch Catalogue) you'll be able to find the catalogue with the entire line-up of beautiful designs and products that are available during the coming weeks, as well as important details as to how to order your desired merch.
The form for which can also be found below:
You have until the 30th of November to fill in your orders, so be sure to not miss out!