Merchandise
Dear Albioneers!
With just a little over a month left until we'll be greeting summer, we have to get started on preparations for the (hopefully) nice and warm weather!
Which means stuffing your sweaty jumpers into the bottom of your drawers and getting the good ol' flip flops and shorts out of the closet.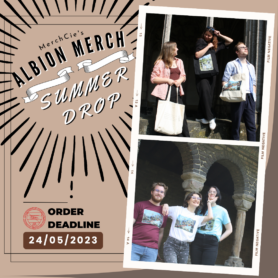 If somehow you find your summer wardrobe to be somewhat lacking or maybe are in need to replace some items, no worries! The MerchCie is here to help you, as from today onwards orders are open for the Albion Merch Summer Drop!
Here you'll be able to find the (Albion Summer Merch Catalogue) showcasing our fresh line-up of new designs and products available to you.
Additionally, it contains vital details as to how to order your desired merch.
The form for which can also be found below:
The ordering period has unfortunately ended, thanks everyone and see you at the next drop!