The Board
The current board
This is the XXIXth board of Albion consisting of  Imke, Effie, Ward, Leanne and Zoë. We take care of almost everything Albion related and make sure things run smoothly. We'll make sure your year will be exciting, educational and unforgettable!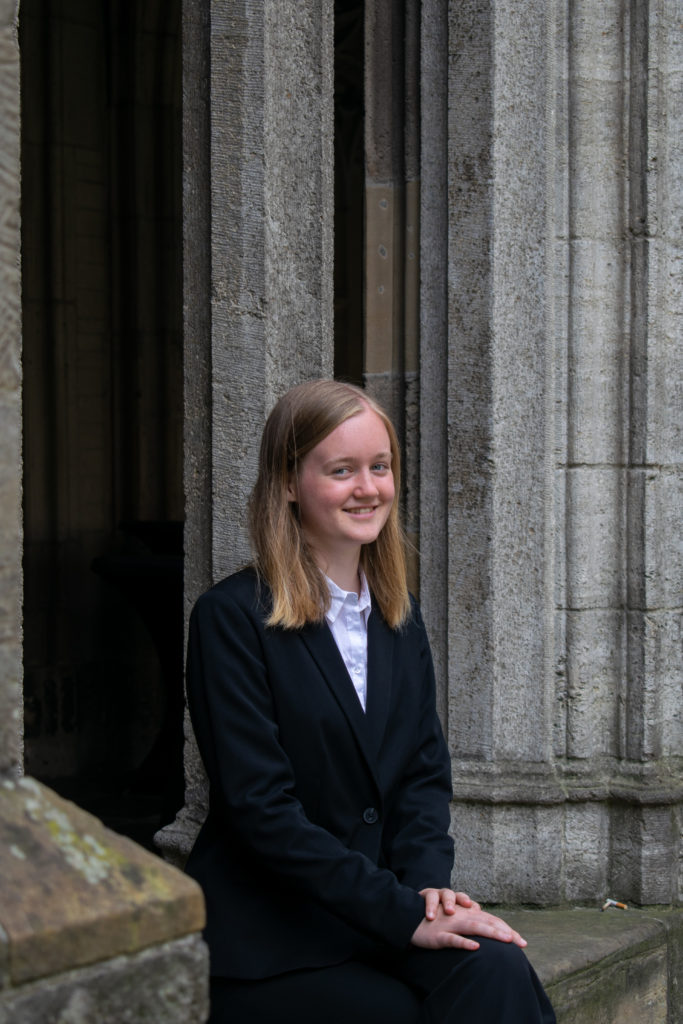 Imke van Dam (Chair)
Nicknames: Im, Immeke (Xx Leanne)
From: Nieuwerbrug (Don't worry, nobody knows that place)
Born on: 1st of May 2000
Favourite book: I don't really know, but Lord of the Flies was the first literary work I really enjoyed so… that counts for something!
Favourite season: Spring! (apart from the rain)
Guilty pleasure: House renovating programs (don't ask me why)
Can't live without: Air
No one knows that: I pretended to be a mermaid when I was 8
Hogwarts house: Hufflepuff all the way! (Never got a different result on Pottermore)
The UK/Ireland/USA/Canada: UK
Literature or linguistics: Literature (sorry Koen)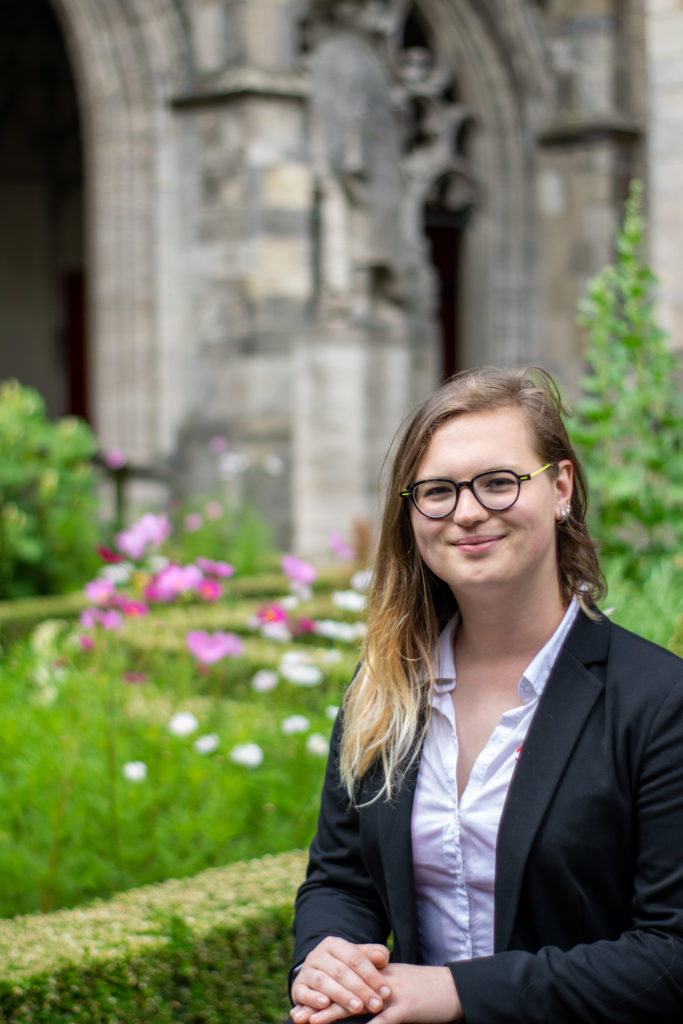 Effie Ophelders (Secretary)
Nicknames: Ef, Ineffiecient, Euphemia, Eff Off
From: Rotterdam, ken je da nie hore dan
Born on: 31st of July 1996
Favourite book: Watchmen by Alan Moore and Dave Gibbons
Favourite season: Spring is when my winter depression pisses off again so…
Guilty pleasure: Still playing Pokémon Go
Can't live without: The Snyder Cut of Justice League
No one knows that: I was polyamorous for a while
Hogwarts house: I used to think I was a Gryffindor, what with the glasses and forehead scar, but I'm actually a Hufflepuff ¯\_(ツ)_/¯ (but also, JK is a TERF, so fuck her)
The UK/Ireland/USA/Canada: The US, but like, the okay-ish parts
Literature or linguistics: Literature, clearly, I'm not insane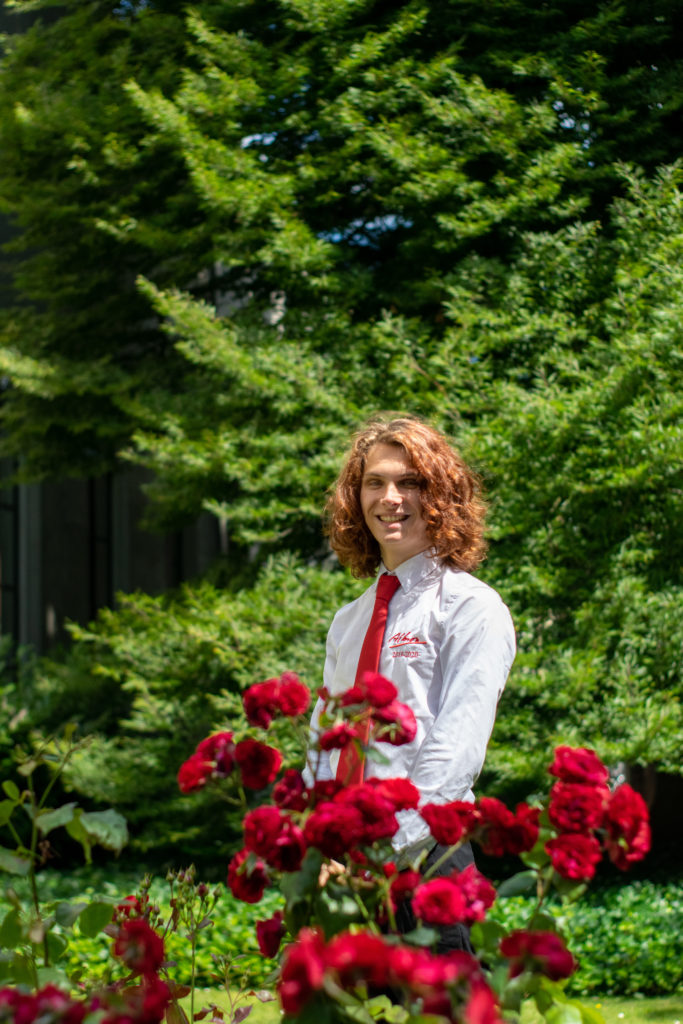 Ward Faessen (Treasurer)
Nicknames: Eddie, EduWard, Eduardo, Bart
From: Geleen
Born on: 4th of April 2000
Favourite book: Written in Bone by Simon Beckett
Favourite season: Summer, because then I get to go on vacation to my favourite places, like Portugal and California.
Guilty pleasure: very cheesy music and films and series like Demi Lovato and Titanic and Shadowhunters.
Can't live without: Music, cats, and food.
No one knows that: (that=if) I'm asexual.
Hogwarts House: Ravenclaw, but I used to be Slytherin so I usually call myself a Slytherclaw.
The UK/Ireland/USA/Canada: I like them all but I have more of a connection with the US (California) and Ireland.
Literature or Linguistics: Linguistics, Christ, imagine having to read historical literary works that you don't get and have to form an opinion on it, write a 2000 word essay on it etc. No, linguistics is better: how do we speak and why do we do it the way we do it.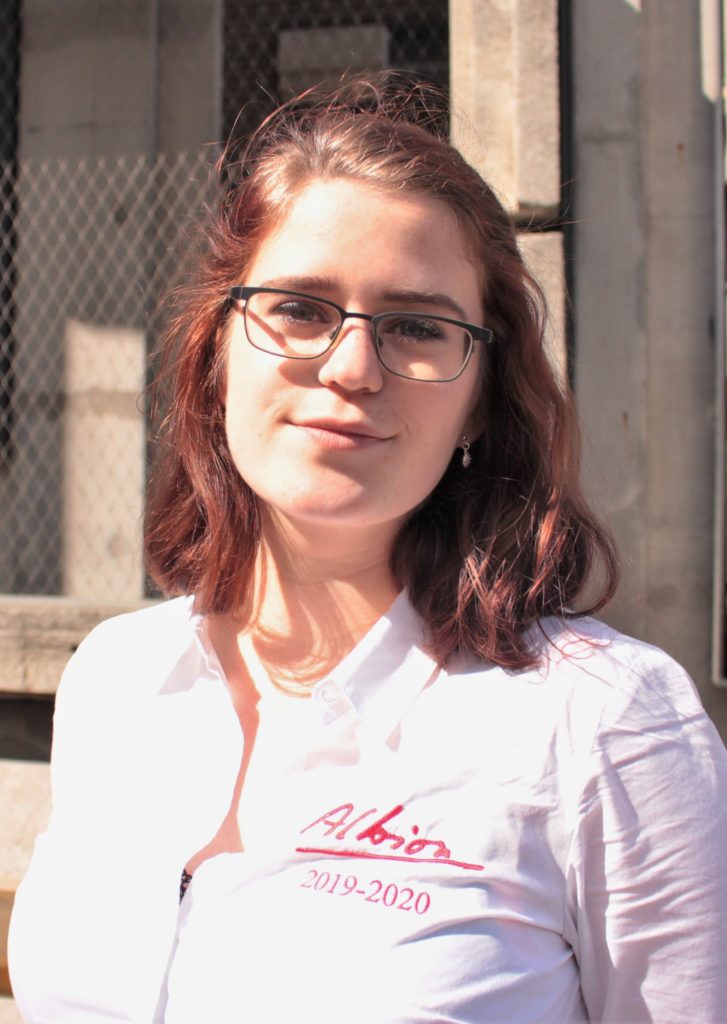 Leanne van Kampen (Commissioner of Internal Affairs)
Nicknames: Lee
From: Leusden
Born on: May 7th 2000
Favourite book: Pride and Prejudice because I Too Am A Socially Awkward Robot
Favourite season: SPRING. Give me that nice temperature BUT with a breeze. And C O L O U R S.
Guilty pleasure: Milka Peanut Caramel (I'm not feeling guilty about the tv series I watch lol)
Can't live without: Podcasts and series
No one knows that: I like to pretend I'm emotionless but I have at least 200 moodswings a day.
Hogwarts house: Slytherclaw (Slytherin/Ravenclaw hybrid because I Am Like That)
The UK/Ireland/USA/Canada: UK, but I wanna run off to Ireland.
Literature or Linguistics: Linguisticccssssssss, esp. language history and the way in which language changes over time (etymology is my bitch)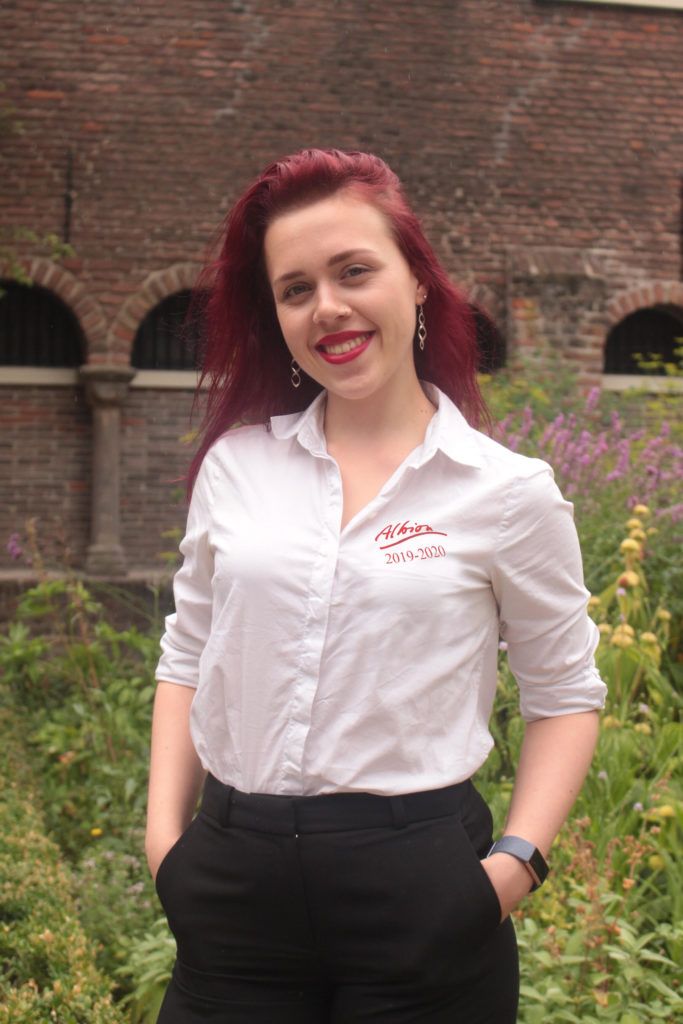 Zoë op ten Berg (Commissioner of Education)
Nicknames: Zo, Zoo, Tsunami, Salami (it escalated), just call me Zoë
From: Almere (just like Ali-B and Famke Louise, so yeah)
Bron on: May 25th
Favourite book: The hundred year old man that jumped out of the window and disappeared.
Favourite season: Spring!
Guilty pleasure: Any boyband, but I don't feel guilty at all.
Can't live without: Coffee and Profanities.
Hobbies: I sing, play guitar, enjoy doing nail art, going to the gym, and baking:)
No one knows that: Red/purple is not my natural hair color.
Hogwarts house: Due to my disinterest in Harry Potter (you can hate me later), I choose House of Gaga
The UK/Ireland/USA/Canada: OOOHHH CAAANADAAAAA (I'm actually Canadian eh)
Literature or Linguistics: Linguistics! Literature should be avoided at all costs, because it hurts my brain. Also, I'm an English teacher, so understanding how language works is key. 
Board History
The 28th board
Academic year 2018-2019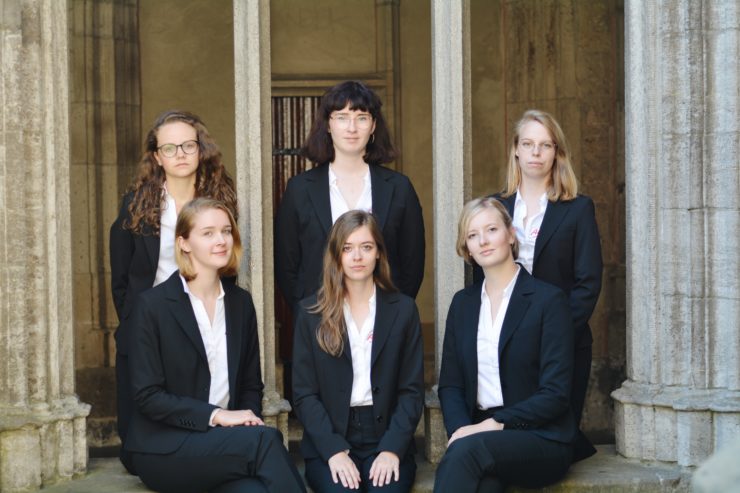 Chair: Sandra de Kruijf
Secretary: Ymke Verploegen
Treasurer: Caitlin Kroot
Commissioner of Internal Affairs: Hanka Damsma
Commissioner of Education: Lotte Murrath
Commissioner of External Affairs (resigned 24-04-2019): Baukje Harmsma
The 27th board
Academic year 2017-2018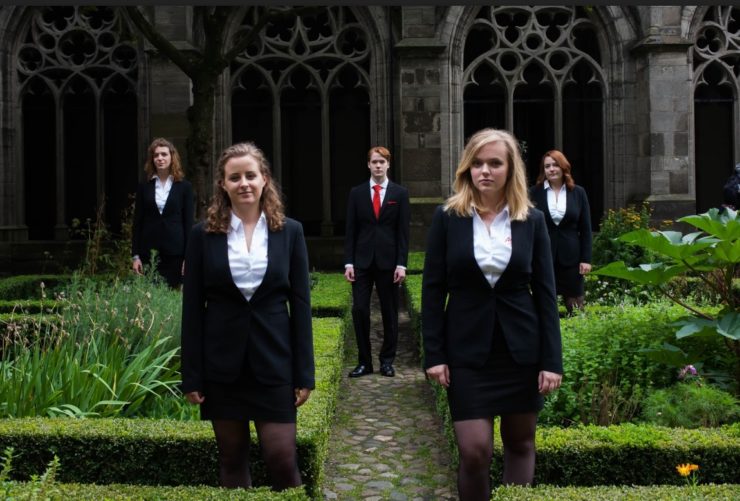 Chair (resigned 30-04-2018): Job Petersen
Secretary: Tanisha Wetsteen
Treasurer: Justine Hoogstraten
Commissionair of Internal Affairs: Minthe Woudstra
Commissionair of External Affairs: Alessandra Polimeno
The 26th Board
Academic Year 2016-2017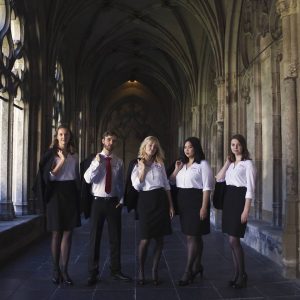 Chair: Anna de Roest
Secretary: Vincent Brouwer
Treasurer: Chrystel Philipsen
Commissioner of Internal Affairs: Jitske Brinksma
Commissioner of External Affairs: Iris Pijning
The 25th Board
Academic Year 2015-2016
Chair: Nick Breedveld
Secretary: Georgia-Rae Dijk
Treasurer: Laurien Schonewille
Commissioner of Internal Affairs: Niki Liebregts
Commissioner of External Affairs: Maarten Gooskens
The 24th Board
Academic Year 2014-2015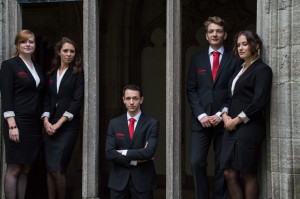 Chair: Jos de Groot
Secretary: Nadine van kerkhoven
Treasurer: Floris Bouwman
Commissioner of Internal Affairs: Carlijn Burggraaf
Commissioner of External Affairs: Pleuni van Laarhoven
The 23rd Board
Academic Year 2013-2014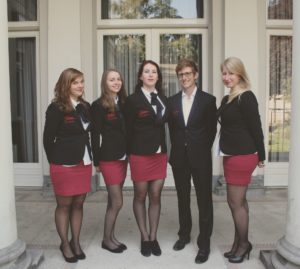 Chair: Fleur Kronenberg
Secretary: Aster Dieleman
Treasurer: Syme van der Lelij
Commissioner of Internal Affairs: Maroucha Veerman
Commissioner of External Affairs: Astrid Nieuwets
The 22nd Board
Academic Year 2012-2013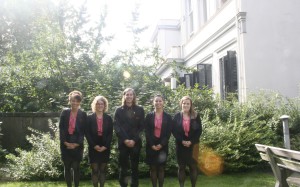 Chair: Michel Op Den Camp
Secretary: Valerie Vastbinder
Treasurer: Anneke Pons
Commissioner of Internal Affairs: Annabelle Roovers
Commissioner of External Affairs: Aisha Mansaray
The 21st Board
Academic Year 2011-2010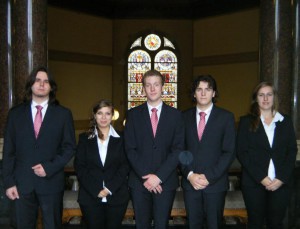 Chair: Arne Rydell
Secretary: Laila El-Sayed
Treasurer: Christian Hendriks
Commissioner of Internal Affairs: Koen van den Wijngaart
Commissioner of External Affairs: Litania de Graaf
The 20th Board
Academic Year 2010-2011
Chair: Joyce Calis
Secretary: Sabina Kasum (First Marianne Kraai)
Treasurer: Christian Hendriks
Commissioner of Internal Affairs: Anton van der Sluis
Commissioner of External Affairs: Bas Teunissen
The 19th Board
Academic Year 2009-2010
Chair: Ingrid Verhees
Secretary: Bert Verwoerd
Treasurer: Jamili Wetzels *Honorary Albion Member*
Commissioner of Education: Lieke Oosterkamp
The 18th Board
Academic Year 2008-2009
Chair: Ruby Engelen
Secretary: Marjolein Toet
Treasurer: Judith de Graaf
Deputy-chair: Lisa Geijtenbeek
Commissioner of Public Relations: Esmé Deppe
The 17th Board
Academic Year 2007-2008
Chair: Erik van Dijk
Secretary: Wolf Hijlkema
Treasurer: Christine Kelly
The 16th Board
Academic Year 2006-2007
Chair: Michiel Bilderbeek
Secretary: Roos van de Wardt
Treasurer: Sander Gerrits
The 15th Board
Academic Year 2005-2006
Chair: Eva Overman
Secretary: Rosanne Dirksmeijer
Treasurer: Erik van Eimeren
The 14th Board
Academic Year 2004-2005
Chair: Laragh Meijer (now Willekes Macdonald)
Secretary: Laura van Hamersveld
Treasurer: Marieke Pieterman (not Ten Holter)
The 13th Board
Academic Year 2003-2004
Chair: Daniel Valkenhoff
Secretary: Linda van de Brink
Treasurer: Tamara Ramsey
The 12th Board
Academic Year 2002-2003
Chair: Frances van Oost
Secretary: Heiltje Winterink
Treasurer: Luuk Keijser
The 11th Board
January 2001 – September 2002
Chair: Peter Kroes
Secretary: Victoire Nijland
Treasurer: Jorinde de Boer
The 10th Board
Calendar Year 2000
Chair: Michiel de Hoog
Secretary: Roos Jansen
Treasurer: Dennis de Jong, Suzanne Martens?
Committee coordinator: Sanne Bergenhenegouwen 
The 9th Board
Calendar Year 1999
Chair: Michiel de Hoog
Secretary: Roos Jansen
Treasurer: Dennis de Jong
Committee coordinator: Sanne Bergenhenegouwen
The 8th Board
Calendar Year 1998
Chair: Kathelijne van de Velde
Secretary: Chantal Weghorst
Treasurer: Lianne van der Meer
The 7th Board
Calendar Year 1997
Chair: Anneke Gortemulder
Secretary: Chantal Weghorst
Treasurer: Niels Rengelink
The 6th Board
Calendar Year 1996
Chair: Henriëtta Spa
Secretary: Gabriëlla van Karsbergen
Treasurer: Bas Jonkers
The 5th Board
Calendar Year 1995
Chair: Jetta Spaanenburg
Secretary:
Treasurer: Jean Michael Thijssen
The 4th Board
Calendar Year 1994
Chair: A. Post
Secretary:
Treasurer:
The 3rd Board
Calendar Year 1993
Chair: J. van Harmelen
Secretary:
Treasurer:
The 2nd Board
Calendar Year 1992
Chair: Maayke Botman
Secretary: Iris Casteren van Cattenburgh
Treasurer: Maarten Coelingh
The 1st Board
Calendar Year 1991
Chair: Jan de Nooij
Secretary: Renée Kerkhoven
Treasurer: Maarten Coelingh
This is as far as our knowledge of previous board members goes. If you have any information on previous Albion board members, please contact us at albionutrecht@gmail.com
Before Albion Utrecht was restarted in 1991 with the Statutes, it did exist and it had board members. However, we know of only someformer board members:
Erik Cooper (Treasurer in 1962-63, and President in 1963-64)
Jan Paul Kuijper
Peter Schelleman (1968-69)
Bert Schouten
Monic Martens (1982-1987?)
Gert Jan Lantinga (Chair during 1979-85)