The Board
The current board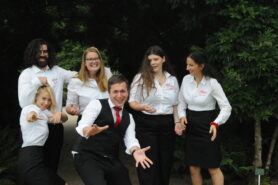 This is the XXXIst board of Albion consisting of Bram, Tessa, Dagmar, Wobke, Victoria and Daan. We take care of almost everything Albion related and make sure things run smoothly. Our goal is to make this an unforgettable year for everyone and to be as open and inclusive as possible!
Cheers, XXXI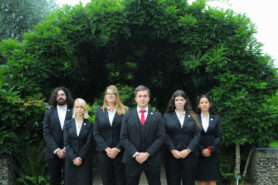 Board XXXI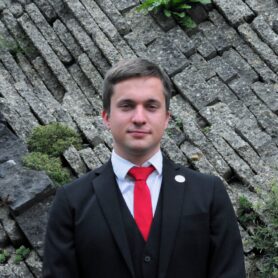 Bram van Beerendonk – Chair
Nickname: Barf
From: Best ('vo Brabant-dispuut)
Birthday: March 11th
Drink: Ice-cold Bavaria pils
Specialty dish: Bavarois, but I also make some mean fried rice
Catchphrase: "'vo (voor de leden)"
Song: "Eduard 40hands" by Mom Jeans
Morning person or night owl: Night owl
Celebrity crush: Koen
Book: To Kill A Mockingbird
Fictional character: Geralt of Rivia seems like a pretty chill dude
Artist: I'll always have a soft spot for Coldplay
Movie: Breakfast Club
Country: Anywhere in Eastern Europe's always a load of fun
Guilty Pleasure: Dungeons and Dragons
No-one knows that… I write really sappy love poems
I can't live without… My phone, depressingly enough
Spirit animal: Brown Bear
Literature or Linguistics: Linguistics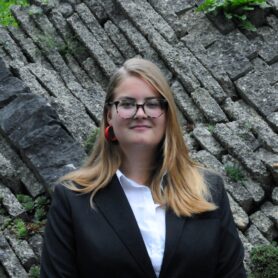 Tessa van Westerop – Secretary
Nickname: Tess
From: Bergschenhoek
Birthday: March 14th
Drink: Non-alcoholic: Green ice tea, alcoholic: a rakketje
Specialty Dish: Sushi!
Catchphrase: "There is no such thing as too many plants!"
Song: "Fire" by The Pointer Sisters
Morning person or night owl: Definitely night owl
Celebrity crush: Dylan O'Brien and Zendaya
Book: Probably just all of the Percy Jackson books!
Fictional character: Percy Jackson, Sokka and Spiderman
Artist: Miley Cyrus
Movie: Onward or Star Wars: A New Hope
Country: Greece and England
Guilty Pleasure: Watching talent show compilations on YouTube
No-one knows… How many plants I have accidently killed over the past few years…
I can't live without… ALBION! Just kidding, it's mangoes.
Spirit animal: Zazu from the Lion King
Literature or Linguistics: Literature
Dagmar Nan – Treasurer
Nickname: Duckmar
From: Eindhoven
Birthday: July 29th
Drink: Red Wine
Specialty Dish: Kaassoufflés
Catchphrase: "Mij nie belle"
Song: "Go Your Own Way" by Fleetwood Mac
Morning person or night owl: Night Owl!
Celebrity crush: Megan Fox
Book: The Unbearable Lightness of Being by Milan Kundera
Fictional character: Rosa Diaz from Brooklyn Nine Nine
Artist: Against the Current
Movie: Pride and Prejudice (2005)
Country: Spain
Guilty Pleasure: Drinking hot chocolate in bed with a warm blanket while eating
even more chocolate
No-one knows that… I can't whistle, of which I am very ashamed
I can't live without… Music to listen to every second I am not doing something
Spirit animal: A duck!
Literature or Linguistics: Literature!!!!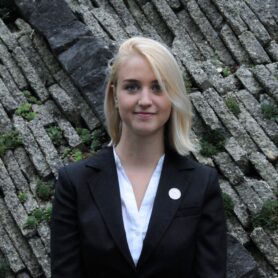 Wobke Ballast – Commissioner of Internal Affairs
Nickname: Wobbel, Wuppie, Womker, idiot
From: The beautiful city Kampen!
Birthday: September 6th
Drink: Mojito's all day every day
Specialty Dish: I make killer banana pancakes, especially on a hungover Sunday morning
Catchphrase: "Oh heeeeele goeie"
Song: "September" by Earth Wind and Fire
Morning person or night owl: Night owl for sure
Celebrity crush: Oof, I think Synyster Gates from A7X
Book: Coraline by Neil Gaiman
Fictional character: Sokka from Avatar
Artist: Rammstein
Movie: Corpse Bride!
Country: Italy
Guilty Pleasure: Very ugly Dutch music they play in clubs or programmes like Ex
on the Beach
No-one knows that… As a kid, I've played a lead role in a musical across the country
I can't live without… My ukulele
Spirit animal: My big fat red cat, Torres
Literature or Linguistics: Linguistics all the way babyyy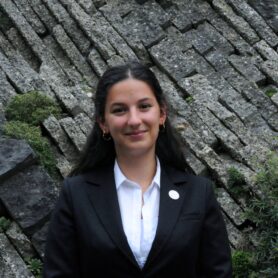 Victoria Bluriot – Commissioner of Education
Nickname: Vicky, Vic, Vivi for my fellow frenchies
From: Brussels, Belgium
Birthday: February 23rd
Drink: Something very sweet, ideally a cocktail but I'm a broke af
Specialty Dish: French crêpes or ratatouille hahaha
Catchphrase: "What on Earth"
Song: "Mr Blue Sky" by Electric Light Orchestra
Morning person or night owl: Definitely a morning person
Celebrity crush: Riz Ahmed or Mark Ruffalo (dad bod alert)
Book: Les Contemplations by Victor Hugo
Fictional character: Titus Andromedon has the attitude I strive for
Artist: Angèle (Belgian artist)
Movie: A Streetcar Named Desire
Country: New Zealand
Guilty Pleasure: Cinnamon roll pop tarts. So much sugar but they're so good
No-one knows that… I'm not Belgian 🙁 I'm French and Spanish
I can't live without… My phone and my computer
Spirit animal: A manta ray, they're beautiful
Literature or Linguistics: Linguistics forever!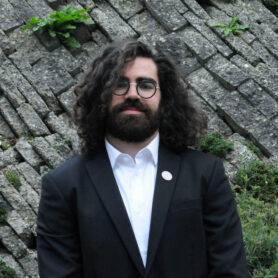 Daan Reins – Commissioner of External Affairs
Nickname: Daan 'Daan Reins' Reins (sadly self-appointed)
From: Geldrop, Noord Brabant
Birthday: October 27th
Drink: Non-alcoholic: coffee and water, alcoholic: Cuba Libre and beer
Specialty Dish: I love heating up pizza
Catchphrase: "bada bing bada boom''
Song: "Watermelon in Easter Hay" by Frank Zappa
Morning person or night owl: Night owl
Celebrity crush: Emma Watson is foine.
Book: Fear and Loathing in Las Vegas or Discipline and Punish
Fictional character: Bojack Horseman
Artist: Otis Redding
Movie: Good Will Hunting
Country: Austria
Guilty Pleasure: Sometimes I re-read my own work and genuinely enjoy it
No-one knows that… I'd like to think that I'm kind of an open book. But I've written two books
I can't live without… Affection, coffee, puns, sunlight, all the classics really.
Spirit animal: Maybe Waddles, My parents' dog, Jackie or Bojack Horseman
Literature or Linguistics: Literature, final answer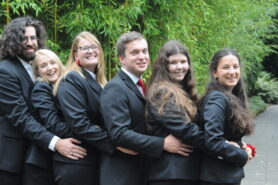 Board History
The 30th board
Academic year 2020-2021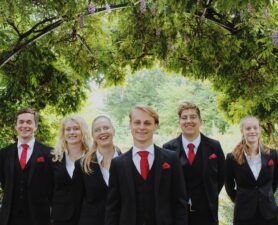 Chair: Bauke Dudink
Secretary: Veerle Kosters
Treasurer: Charlotte van Houdt
Commissioner of Internal Affairs: Rixt Tuinstra
Commissioner of Education: Nienke Hutten
Commissioner of External Affairs: Bram van Beerendonk
The 29th board
Academic year 2019-2020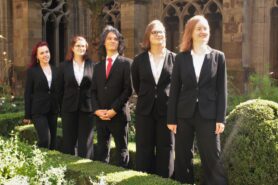 Chair: Imke van Dam
Secretary: Effie Ophelders
Treasurer: Ward Faessen
Commissioner of Internal Affairs: Leanne van Kampen
Commissioner of Education: Zoë op ten Berg
The 28th board
Academic year 2018-2019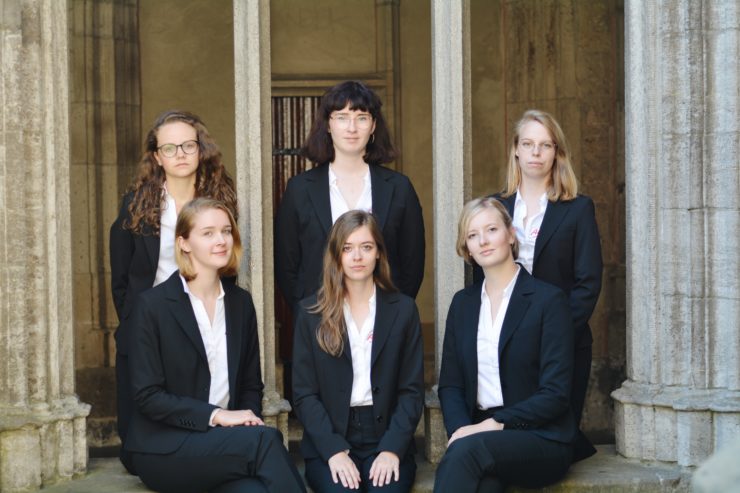 Chair: Sandra de Kruijf
Secretary: Ymke Verploegen
Treasurer: Caitlin Kroot
Commissioner of Internal Affairs: Hanka Damsma
Commissioner of Education: Lotte Murrath
Commissioner of External Affairs (resigned 24-04-2019): Baukje Harmsma
The 27th board
Academic year 2017-2018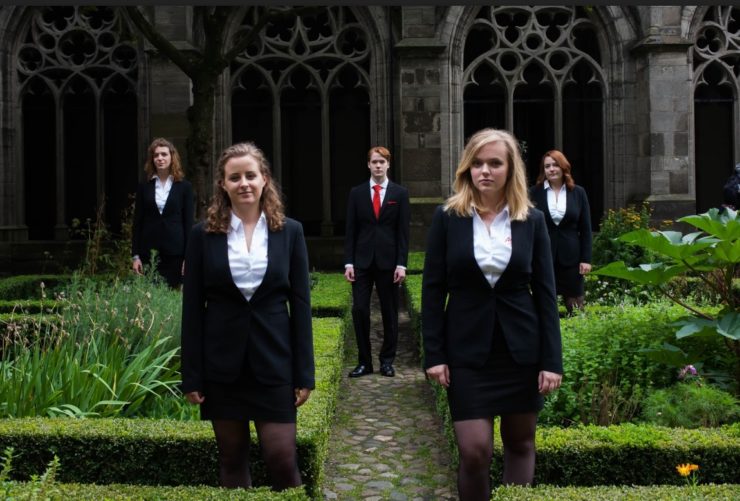 Chair (resigned 30-04-2018): Job Petersen
Secretary: Tanisha Wetsteen
Treasurer: Justine Hoogstraten
Commissionair of Internal Affairs: Minthe Woudstra
Commissionair of External Affairs: Alessandra Polimeno
The 26th Board
Academic Year 2016-2017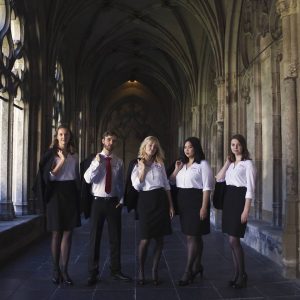 Chair: Anna de Roest
Secretary: Vincent Brouwer
Treasurer: Chrystel Philipsen
Commissioner of Internal Affairs: Jitske Brinksma
Commissioner of External Affairs: Iris Pijning
The 25th Board
Academic Year 2015-2016
Chair: Nick Breedveld
Secretary: Georgia-Rae Dijk
Treasurer: Laurien Schonewille
Commissioner of Internal Affairs: Niki Liebregts
Commissioner of External Affairs: Maarten Gooskens
The 24th Board
Academic Year 2014-2015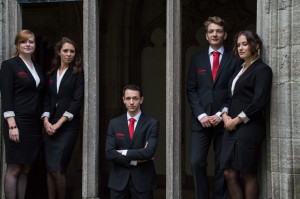 Chair: Jos de Groot
Secretary: Nadine van kerkhoven
Treasurer: Floris Bouwman
Commissioner of Internal Affairs: Carlijn Burggraaf
Commissioner of External Affairs: Pleuni van Laarhoven
The 23rd Board
Academic Year 2013-2014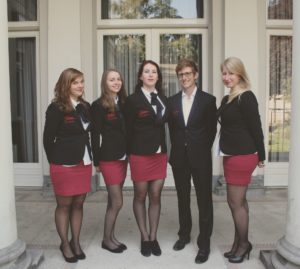 Chair: Fleur Kronenberg
Secretary: Aster Dieleman
Treasurer: Syme van der Lelij
Commissioner of Internal Affairs: Maroucha Veerman
Commissioner of External Affairs: Astrid Nieuwets
The 22nd Board
Academic Year 2012-2013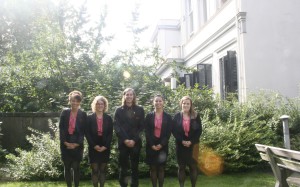 Chair: Michel Op Den Camp
Secretary: Valerie Vastbinder
Treasurer: Anneke Pons
Commissioner of Internal Affairs: Annabelle Roovers
Commissioner of External Affairs: Aisha Mansaray
The 21st Board
Academic Year 2011-2010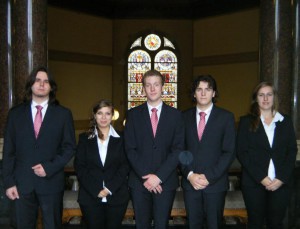 Chair: Arne Rydell
Secretary: Laila El-Sayed
Treasurer: Christian Hendriks
Commissioner of Internal Affairs: Koen van den Wijngaart
Commissioner of External Affairs: Litania de Graaf
The 20th Board
Academic Year 2010-2011
Chair: Joyce Calis
Secretary: Sabina Kasum (First Marianne Kraai)
Treasurer: Christian Hendriks
Commissioner of Internal Affairs: Anton van der Sluis
Commissioner of External Affairs: Bas Teunissen
The 19th Board
Academic Year 2009-2010
Chair: Ingrid Verhees
Secretary: Bert Verwoerd
Treasurer: Jamili Wetzels *Honorary Albion Member*
Commissioner of Education: Lieke Oosterkamp
The 18th Board
Academic Year 2008-2009
Chair: Ruby Engelen
Secretary: Marjolein Toet
Treasurer: Judith de Graaf
Deputy-chair: Lisa Geijtenbeek
Commissioner of Public Relations: Esmé Deppe
The 17th Board
Academic Year 2007-2008
Chair: Erik van Dijk
Secretary: Wolf Hijlkema
Treasurer: Christine Kelly
The 16th Board
Academic Year 2006-2007
Chair: Michiel Bilderbeek
Secretary: Roos van de Wardt
Treasurer: Sander Gerrits
The 15th Board
Academic Year 2005-2006
Chair: Eva Overman
Secretary: Rosanne Dirksmeijer
Treasurer: Erik van Eimeren
The 14th Board
Academic Year 2004-2005
Chair: Laragh Meijer (now Willekes Macdonald)
Secretary: Laura van Hamersveld
Treasurer: Marieke Pieterman (not Ten Holter)
The 13th Board
Academic Year 2003-2004
Chair: Daniel Valkenhoff
Secretary: Linda van de Brink
Treasurer: Tamara Ramsey
The 12th Board
Academic Year 2002-2003
Chair: Frances van Oost
Secretary: Heiltje Winterink
Treasurer: Luuk Keijser
The 11th Board
January 2001 – September 2002
Chair: Peter Kroes
Secretary: Victoire Nijland
Treasurer: Jorinde de Boer
The 10th Board
Calendar Year 2000
Chair: Michiel de Hoog
Secretary: Roos Jansen
Treasurer: Dennis de Jong, Suzanne Martens?
Committee coordinator: Sanne Bergenhenegouwen 
The 9th Board
Calendar Year 1999
Chair: Michiel de Hoog
Secretary: Roos Jansen
Treasurer: Dennis de Jong
Committee coordinator: Sanne Bergenhenegouwen
The 8th Board
Calendar Year 1998
Chair: Kathelijne van de Velde
Secretary: Chantal Weghorst
Treasurer: Lianne van der Meer
The 7th Board
Calendar Year 1997
Chair: Anneke Gortemulder
Secretary: Chantal Weghorst
Treasurer: Niels Rengelink
The 6th Board
Calendar Year 1996
Chair: Henriëtta Spa
Secretary: Gabriëlla van Karsbergen
Treasurer: Bas Jonkers
The 5th Board
Calendar Year 1995
Chair: Jetta Spaanenburg
Secretary:
Treasurer: Jean Michael Thijssen
The 4th Board
Calendar Year 1994
Chair: A. Post
Secretary:
Treasurer:
The 3rd Board
Calendar Year 1993
Chair: J. van Harmelen
Secretary:
Treasurer:
The 2nd Board
Calendar Year 1992
Chair: Maayke Botman
Secretary: Iris Casteren van Cattenburgh
Treasurer: Maarten Coelingh
The 1st Board
Calendar Year 1991
Chair: Jan de Nooij
Secretary: Renée Kerkhoven
Treasurer: Maarten Coelingh
This is as far as our knowledge of previous board members goes. If you have any information on previous Albion board members, please contact us at albionutrecht@gmail.com
Before Albion Utrecht was restarted in 1991 with the Statutes, it did exist and it had board members. However, we know of only someformer board members:
Erik Cooper (Treasurer in 1962-63, and President in 1963-64)
Jan Paul Kuijper
Peter Schelleman (1968-69)
Bert Schouten
Monic Martens (1982-1987?)
Gert Jan Lantinga (Chair during 1979-85)