Activities & Parties
Keep yourself up to date on all of our activities!
All of the activities we and our committees have organized for you are displayed below! At the bottom of the page you'll find our past events. You can also visit the Facebook event of each activity by clicking on the header!
Upcoming events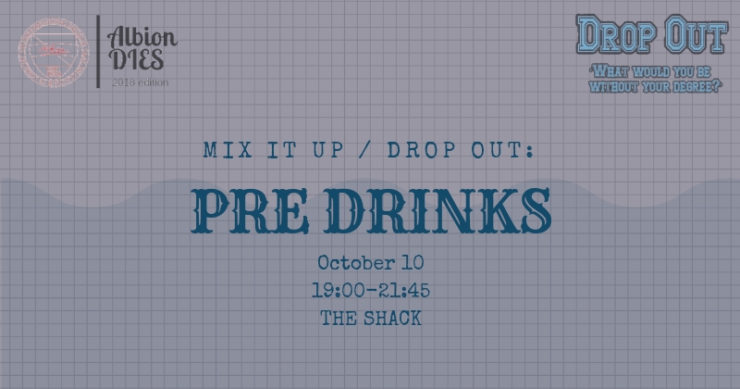 October 10. Pre Drinks.
We're lucky: this year's Mix It Up party is being held during our Dies Week, so in order to make this one extra special and festive, we'll host a pre drinks at the shack! We'll have some drinks and snacks, but you should definitely bring your own as well! As uni closes at 10, we'll head over to the Poema straight after, so we'll have all the time to dance all night to our favorite songs.
Don't have a ticket yet for Mix It Up? Drop by the shack and buy one! For more info on the party itself, head over to the facebook event: https://www.facebook.com/events/2394032083948005/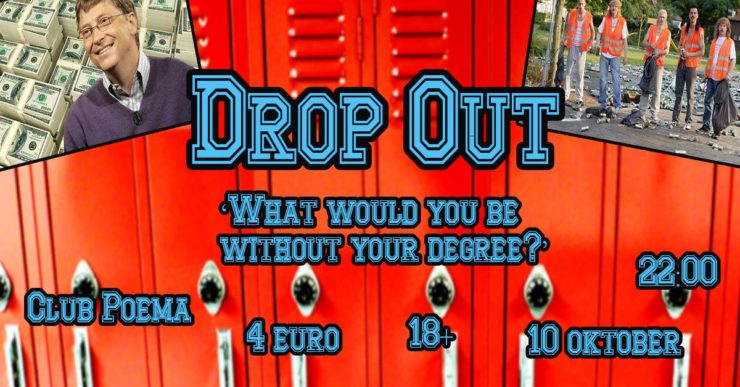 October 10. Mix It Up: Drop Out.
On October 10 Mix It Up returns with a grand new party: Drop Out: What would you be without your Degree. Members of Albion, Alias, Djembé, SGS, Sticky and Usocia can dance the night away in Club Poema from 22:00 till 04:00. Between 23:00 and 00:00 it's happy hour, which means that a beer will only cost you €1,- !
Buy your tickets at the shack for only €4,- and at the door for €5,-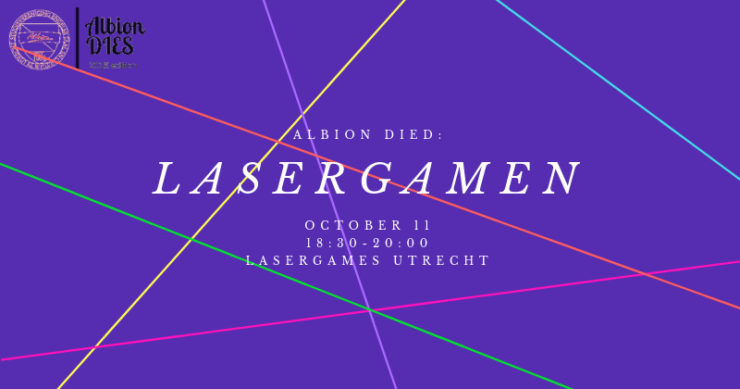 October 11. Albion Died: Lasergamen.
Even though 'dies' is an abbreviation of 'dies natalis' and has nothing to do with us dying, we'll revise that during our dies week special: lasergamen! For only 12,50 pp you can compete against your fellow Albioneers twice (we'll be playing two rounds) and stay hydrated in between with one free drink. Make sure to sign up quickly, since only a limited amount of people can join! You can sign up by sending an email to apcalbion@gmail.com and you'll get more info on payment as well!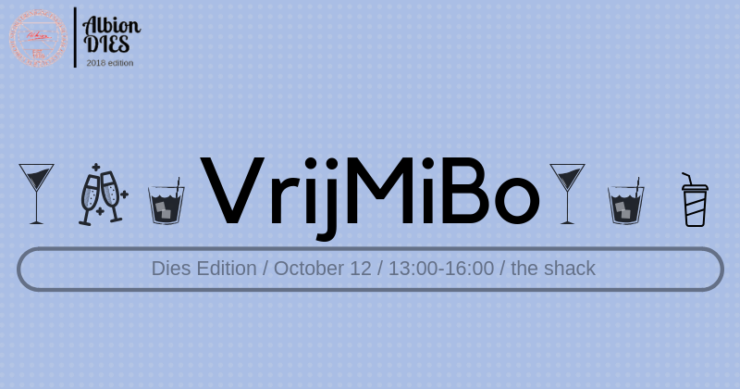 October 12. VrijMiBo.
Hopefully by the time we reach the last event of our Dies Week, you'll have a belly full of cake and new memories of good times with your fellow Albioneers. On friday we'll open the shack one last time for our VrijMiBo: Dies Edition. You can come to unload and relax and begin your weekend appropriately. We'll even have some drinks and snacks for you and our best DJ's will be at your disposal (us). We hope to see you there!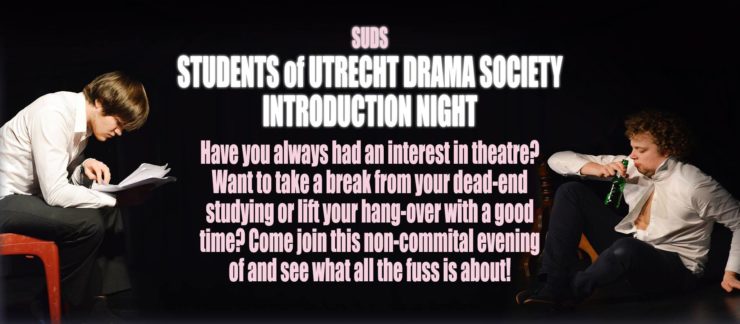 October 17. Suds Introduction Night.
SUDS is back this year with a a brand new attitude, a shiny new board, grand ole ideas and more snacks than ever!
Interested in directing, writing or acting, or even helping us out behind the scenes? Our night is for anyone who might be curious about joining any of our productions this year, or even just has a night off to spend having fun with your peers, come on down and join us on the 17th. We'll tell you all about SUDS and which projects might be coming up– AS WELL AS WHAT YOU MIGHT PLAY A PART (pun intended) IN!
Interested in directing, writing or acting, or even helping us out behind the scenes?
We will have drinks and snacks at your convenience and we'll spend the night trying out acting excercises, improv and a lot more!
See you there!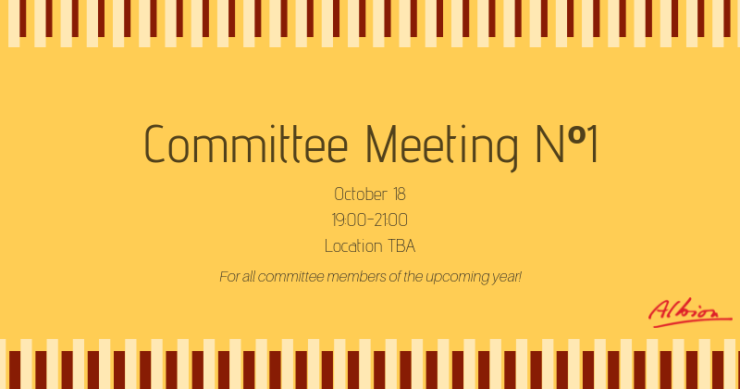 October 18. Committee Meeting Nº1.
Attention all committee members!
In two weeks it's time for the first committee meeting of the year! During this special meeting all committee members of Albion will come together and prepare for the upcoming year collectively. Each member will be trained by someone from the board and informed about their specific functions within the committee. This means that for example, treasures will learn how to set up a budget and secretaries will learn how to make notes appropriately. General committee information will be discussed as well. Everything to make sure this year goes perfectly!
The meeting will begin at 19:15 and the walk-in starts at 19:00.
It is required for all committee members to attend this first meeting. If you are not able to attend, please send us an email at albionutrecht@gmail.com as soon as possible!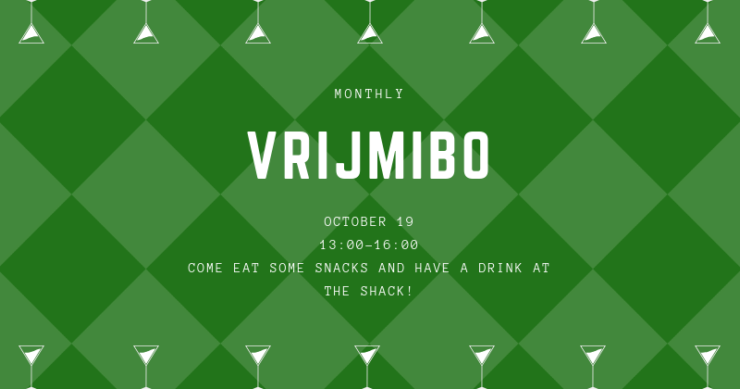 October 19. Monthly VrijMiBo.
We're now already 5 weeks in block 1 and soon midterms will be behind us. Come and hang with us at the shack during our monthly VrijMiBo, which would be the perfect way to unwind and sit back before finals. We'll provide beverages, snacks, cookies and did someone say microwave popcorn?

October 24. Halloween Movie Night.
Dear fellow Albioneers,
We are spamming you once again, and this time to promote a special spooky spectacle! Do you have nerves (or balls) of steel? Are you not afraid of the dark? Or are you rather a bunch of scaredy cats like we, the AcCie, are and only able to watch horror movies when protected by brave Albioneers? Then this is just the event for you! Join us on Wednesday, October 24th at 17:00 to watch a couple movies! We will be starting out the evening with a little warm-up in The Rocky Horror Picture Show before we even want to try the horror that is Halloween!
But wait, there's more!
As is custom with Albion Movie Nights, there will be pizza. For only €5,- per pizza you can send the AcCie on their merry way to feed you during your movie watching. Make sure to tick the box in the Pizza Poll below so you can get your favorite pizza (yes, for extra horror-feel we have added the Hawaii as an option 😉) and transfer the 5 bucks to NL38INGB0002316957 on behalf of 'Albion Vereniging Engelsstuderenden' and be sure to state your name and 'Movie Night' in the description.
Hope to see you there!
Past events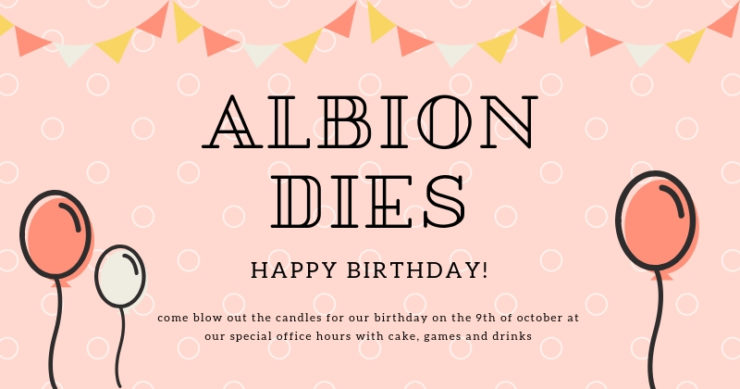 October 9. Albion Dies: Happy Birthday.
To celebrate the birthday of Albion, we'll host our special office hours, during which you can come and go, while enjoying some cake, drinks and games along with other Albioneers. All free of charge of course, since you as members of Albion, made all of this happen, so you deserve a little treat! We hope you drop by 😉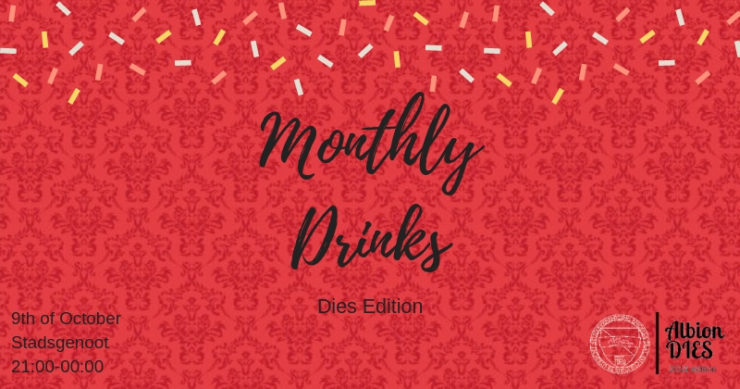 October 9. Monthly Drinks: Dies Edition.
This month's monthly drinks will revolve around the Albion Dies! You probably don't need a special reason to celebrate and have a drink with your friends, so in order to make this one extra special, we'll give away a free beer to the first 20 people to arrive! So hurry up and put yourself on going!
See you in two weeks!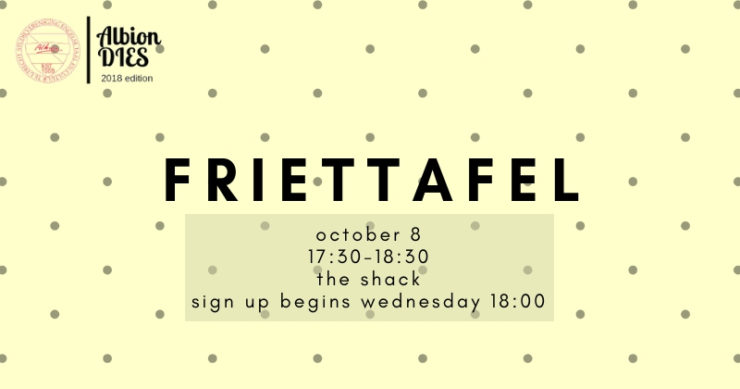 October 8. Friettafel. 
Did you know that on the 9th of October, Albion is celebrating its birthday? And that we always have a special activity to celebrate it? Well this year it's even better! In the week of 9th of October we'll host a full week of events to celebrate the foundation of our study association.
We'll start off on Monday, with our FRIETTAFEL! It's a Dutch student 'thing' and cannot be missed if you're a new student here in Utrecht (or if you just love fries).
We'll order the best fries from Ten Beste, a snackbar which you'll undoubtedly become familiar with if you're an Albioneer: it's our go to place when we get hungry while having drinks at our local pub.
Because the event is completely FREE, we only have a limited amount of place (and fries), so in order to guarantee every has a fair chance at signing up, we'll post the sign up form tomorrow, 18:00.
Be there or be square!