Activities & Parties
Keep yourself up to date on all of our activities!
All of the activities we and our committees have organized for you are displayed below! At the bottom of the page you'll find our past events. You can also visit the Facebook event of each activity by clicking on the header!
Upcoming events
March 4 & 6: One Act Festival
One Act Festival is back for another spectacular show in 2020!
Your favourite English-speaking ensemble will perform a few sure-fire hits on the 4th and 6th of March.
So make sure to attend our remarkable set of four plays:
"The Cheerleading Trap," "It's Just a Game," "The Deserving," and "Nightcrawler."
"The Cheerleading Trap" is a mean-girl-esque adaption of Shakespeare's Hamlet, written by Veerle de Jong and directed by Evelien Vermeulen.
"It's Just a Game" is a rollercoaster of friendships that a group of little girls experiences. It's written by Dagmar Nan and directed by Mijntje du Pont.
"The Deserving" raises a question of how much would you give up for the ones you care for and what do you truly deserve. This play is written and directed by Jasmijn Ooms.
"Nightcrawler" is a mysterious train-ride to the Northern Lights that doesn't go as smoothly as planned. Written by Laurel Sanders and directed by Liepa Gorinaitė and Kali Zhecheva.
Prepare to be 'awed' and 'oohed' with a sprinkle of laughter (and perhaps a slice of spookiness 😉 )
The price of admission is €8, and €6 for students.
Reserve your tickets and claim a seat for you and your friends or family, by messaging us or emailing sudsreservations@gmail.com.
Alternatively, we also sell tickets at the door, make sure you are there in time! We accept both cash and card.
Drinks are served during the break and there are some snacks available for your convenience.
Doors open: 19:00
Performance starts: 19:30
See you there! ❤️
Yours,
The Board of SUDS
March 9: Student Assembly #3
We are in the middle of block three, which can only mean one thing. TIME FOR SOME DISCUSSIONS. Come to the next students assembly to prepare yourself for the coming onderwijsgesprek in block 4. The onderwijsgesprek is a larger meeting with students and teacher where they discuss certain points about the study. We will implement some the these discussion points in our coming assembly to fully prepare yourself.
March 10: Monthly Drinks
Have you enjoyed the weather lately? Ciara, Dennis, and Ellen sure flew over, didn't they?
But don't you fret, because there's no storm planned for the next Monthly Drinks March 10th! Hopefully spring time will come soon, and to celebrate that joyful event, we'll be handing out free Albion shots to the first few people that arrive!
March 11: Time to Die 007
"You only live twice: Once when you are born, and once when you look death in the face." Zijn jullie klaar om de dood recht in het gezicht te kijken? Trek je beste Bondgirloutfit aan, wees een echte 007 of juist een typische slechterik in pak en ga met Albion, Aufschwung, Awater, Babel, Cercle en Hucbald een avond helemaal dood! Koop je drankjes voor je introducés shaken, not stirred en ga de dansvloer op to live and let die.
Vanaf 22.00 uur gaan we los in Bassment tot we er om 4.00 uur weer uitgegooid worden! De kaarten zijn €5,50 per stuk (vraag de code bij je vereniging) en introducés zijn meer dan welkom.
March 18: Study Afternoon
We are getting close again to some upcoming deadlines and exams. Like always, it will be a stressing time, but that doesn't mean you have to carry this burden of stress yourself. We are hosting a study
afternoon again, where you can sit together with your fellow Albioneers and share the stress. You can help each other out and of course there will be some cookies to stimulate your brain.
The study afternoon will be held at one of the meeting rooms in Drift 21 (the ones in the same hallway as the shack). It's on the 18 th of March, from 13:00-17:00.
We hope to see you there!
March 18: Pub Lecture: Popular Romance Studies
On March 18th, the academic committee will be hosting the second pub lecture of the year. This lecture will be given by Dr Johanna Hoorenman on the subject of her own research: popular
romance studies.
In this lecture she will discuss how the Romance genre has developed since the 18th century and how it goes about asking important questions regarding the British Empire along with other
pressing socio-political questions of the time. This is not simply a great opportunity to have a drink with friends and peers, but also to listen to one of our favourite teachers talk about what she's truly passionate about.
April 29: Babion Open Mic Night!
LISTEN UP! Albion is bringing the open mic night back! We are joining forces with the lovely people from Babel to allow you to creatively express yourself during an evening filled with music, comedy and maybe even more… Are you secretly very talented? Is everyone aware of your amazing skills on the flute? Would you like to make your peers laugh… with jokes of course. If any of these options apply to you or you wish to show something else, SIGN UP! You can sign up starting now with the link below. Form bands, acapella quartets, comedic duos or unite all the voices in your head into spoken word! Anything is possible!
Do you wish to remain in the background and simply watch others perform? No worries. Tickets will be available soon.
SIGN UP HERE:
https://www.cognitoforms.com/Babion1/SignupOpenPodiumBabion
Past Events
March 5: Albion does the English Waltz
March 2: Symposium: Medieval Travel
February 27: Master Orientation Evening
February 26: Game Night 2: Electric Boogaloo
February 20: Let's Glow
February 19: Working Effectively
February 18: Monthly Drinks
February 14: Master's Open Day
February 13: Cocktail Workshop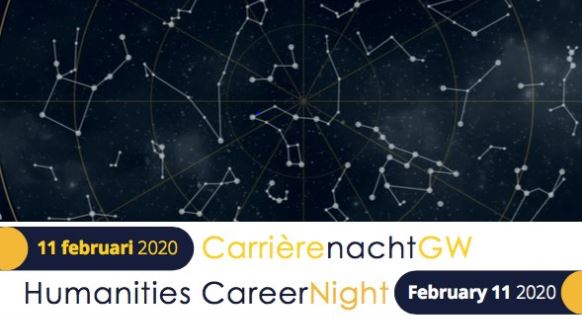 February 11: Humanities Career Night
February 10: Big Trip Information Evening
February 6: Film Night
February 4: Board Information Evening
February 3: Halfjaarlijkse ALV
January 29: Fieldtrip Contentbureau
January 16: Symposium: Gender and Language
January 15: Pubquiz: The Roaring Twenties
January 9: Game Night 2: Electric Boogaloo
January 9: Career Orientation Evening
January 8: Study Afternoon
January 7: Monthly Drinks #07: Happy New Year!
December 18: A BAE C Kerstgala
December 18: Christmas Prom Pre-Drinks
December 18: Career Training Session
December 17: Albion Goes: Ice Skating
December 16: Student Assembly
December 11: Gamestate Night
December 10: Monthly Drinks: Big Trip Reveal
December 3: Symposium and Movie Screening: The Favourite
November 29: Shack Snacks
November 21: Pub Crawl
November 14: One Act Festival Introduction Night
November 13: Èlfde van de Èlfde
November 12: Monthly Drinks #03
November 5: Fall Hike
October 31: Real Life Cluedo
October 31: Halloween Pub Lecture: Frankenstein
October 28: University of the Netherlands
October 25: Deadline One Act Plays
October 24: Study Afternoon
October 18: Alumni Drinks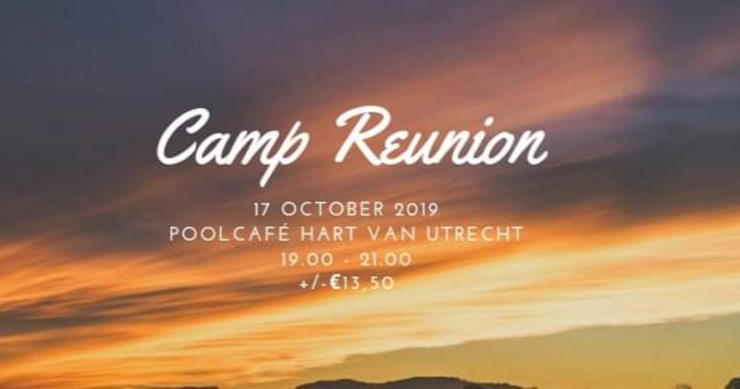 October 17: Camp Reunion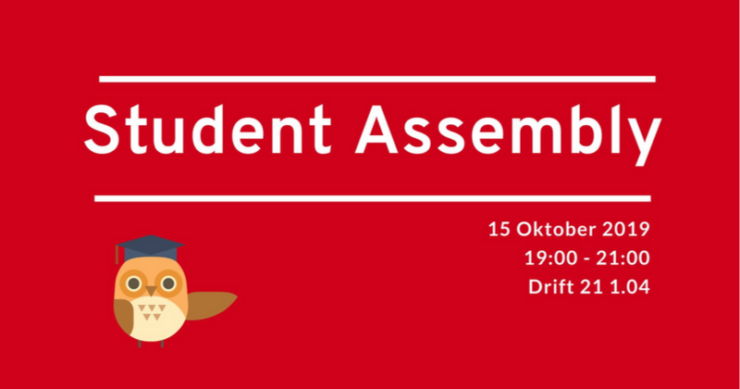 October 15: Student Assembly
Blended Learning, Teacher Feedback & Internationalization
October 11: Shack Snacks: Dies Edition
October 10: Kayaking
October 9: Mix it Up: Woodstock '69
October 9: Mix It Up Pre-Drinks
October 9: Special Office Hours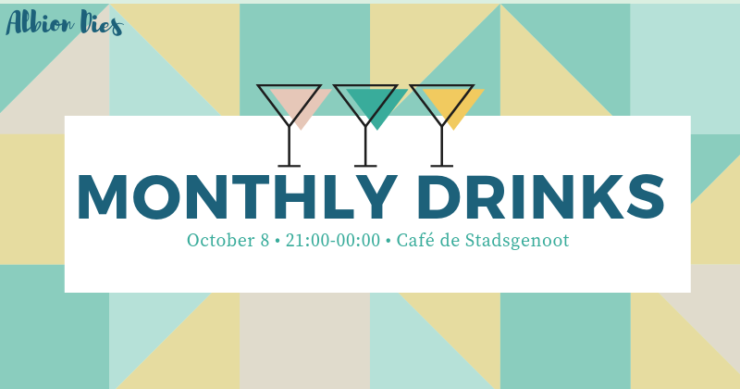 October 8: Monthly Drinks: Dies edition!
October 7: Friettafel
October 3: Darts
October 2: Committee Meeting #01
September 25: SUDS Introduction Night
September 20: Shack Snacks
September 19: Game Night
September 18: Let's Go Rainbow
September 16: Pool Gadget Pick-up
September 10: Monthly Drinks #01: Welcome Back!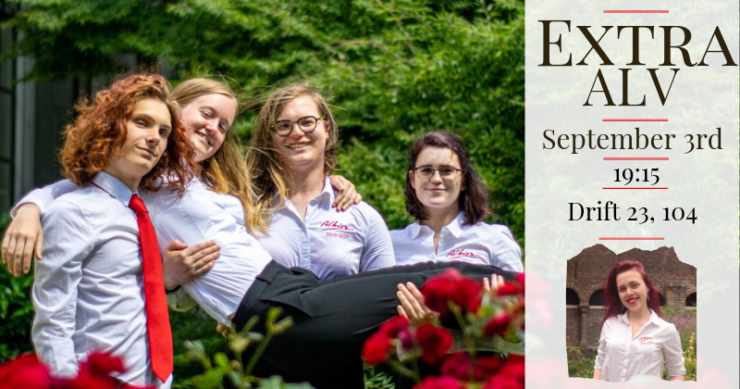 September 3: Extra-ALV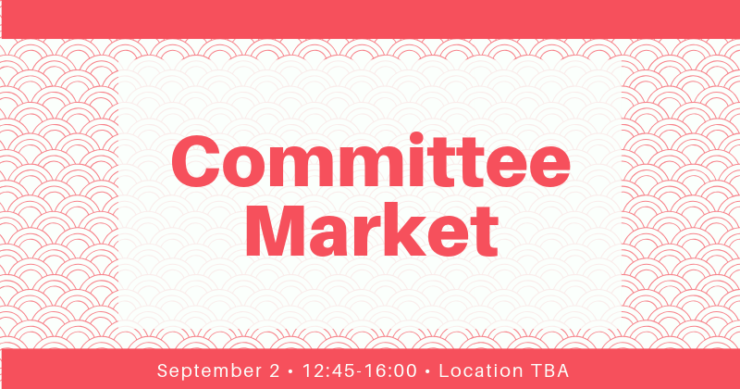 September 2: Committee Market
2018-2019