ReisCie
Every year the Albion Travel Committee, also known as Albion Tours or the ReisCie, organises a short and a long trip away from all the studying! You might still visit a local museum or do something else study-related, but overall these trips are about having fun and getting to know your fellow Albioneers a bit better!  This year's destinations will soon be announced.
This year's members of Albion Tours:
Big Trip
Anna de Roest  – chair
Baukje Harmsma – treasurer
Ymke Verploegen – secretary
Sophie Kusters
Merlijn Sipkens
Short Trip
Thijs Grootveld – chair
Leone versteeg
Robin van den Brule
Floor Klein Hesselink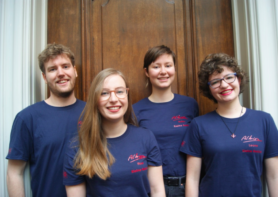 You can contact the committees via email .